Dear Friday, I am SO

happy

you are here, what a long week this week was! You definitely kept me on my toes all week! Dear Spring Break, you are right around the corner! Since I am student teaching, I didn't get the original college spring break off, but thats okay, your almost here. Dear School, I registered for my last semester this week! I can not

WAIT

to be done with you :) (finally, 5 1/2 years is a little long). Dear Sister, you turned 21 this week! I had so much fun going to dinner and drinks wednesday night with you :) I am glad I was home to finally spend a birthday with you! Dear Students, only four more weeks I have left with you :( I am going to be so sad to leave you all and I have decided this will be the hardest part of teaching, letting my students go at the end of the year. Dear Bangggz, I have decided we are not friends, as much as I loved you at first, it is time for you to grow back out and become your original length again. But thank you for a good week of change and fun :) Dear Blonde Hair, in the picture below I might be interested in you again? But maybe I should take a break from some hair changes for awhile...
Have a

GREAT

weekend friends!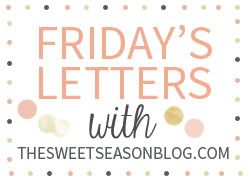 Follow my blog with Bloglovin