Now I am not one to celebrate every and all anniversaries but....today is the day I have been blogging for 6 months!
Wooo! Happy 6th months to me!
What does this mean? Not sure, but I am excited about being in the lovely blog world! The lovely blog relaitnoships I have developed, and all the great reading I have done :)
6th months ago, I made my first post. I had no idea what I was doing. Like I didn't even give it a title so you have to scroll ALLLL the way to the end of the page to see it. Thats funny! Check it out for the most boring read of your life :)
Then I met Rachel over and Sunshine and Sinatra! We became best blogging buddies! I loved reading her daily emails, she is so great!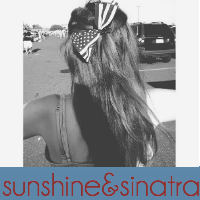 I sponsored my first blog, Love, Fun, and Football, and I LOVE reading Erin's daily posts! It is seriously my favorite blog and I am so excited I chose to sponsor her!
I have also mad a lot of other blogging friends (

check out my sidebar for good reads!)

participated in some guest posts, and have linked up numerous amounts of times! What can I say? I love blogging! Even with a super busy schedule :) Bring on the next 6 months!